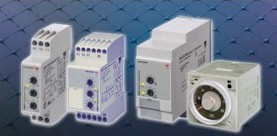 Product Brochure
Carlo Gavazzi offers a comprehensive range of timers for mounting in the back of or for mounting on the front of panels. Gavazzi offers a number of different housing types with either a SPDT or DPDT relay output. Covering most timing functions (On Delay, Interval, Off Delay, One Shot, Zero Speed, Star-Delta, and Recycler), Gavazzi timers are suited for practically every application.

Timers are frequently used in motor control centres, packaging machinery, HVAC equipment, control panels, and process control.

The Gavazzi range of counters includes both 6 and 8 digit types with counting inputs up to 10 KHz. Input signals can be contact/NPN, PNP, or AC voltage. Furthermore, the 1/16 DIN counters have a programmable relay output.In addition to the digital counters, Gavazzi also offers 8 digit digital hour meters.