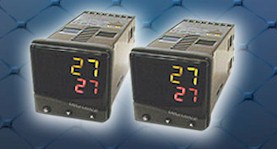 Carlo Gavazzi offers a comprehensive line of single loop controllers for use in temperature and process control on plastics and packaging machinery, food processing, semiconductor manufacturing, and for scientific and medical equipment (sterilizers, etc).

All models feature PID auto-tuning and many also feature self-tuning - which continuously monitors the process and adjusts the control parameters to suit the conditions.

The Gavazzi range includes 1/16 and 1/32 DIN models with a user selectable input type and with up to 3 outputs. In addition, Gavazzi offers 1/8 DIN horizontal mount indicators and on/off controllers.

When combined with Gavazzi solid state relays, you have a leading edge solution for your temperature control needs.